I'm Dustin "El Jefe" Christmann and I am an FC Dallas fanatic from Day One of the Dallas Burn. I'm also a hater. I used to yell mean, hateful things from the stands at the Cotton Bowl and Toyota Stadium, but now, I'm sharing my id with you to help guide you, my fellow FCD fans, in your enjoyment of Major League Soccer on TV.
Last week
Five of the series were closed out in sweeps: Sporting Kansas City finished the drill at home after getting the win in St. Louis in Game 1. The Red Bulls took Cincy to a shootout in Game 2 and had two different kicks to win the shootout and take the series to Game 3, but didn't, and Metro Playoff Fever is now done for another season. Vancouver got beat at home by LAFC and Vanni Sartini blew his top, got sent off, and THEN he had some things to say:
Nashville stuck to its second-half-of-the-season form with an elite defense and a putrid attack and are now out after losing two 1-0 games to Orlando. And finally, Philly swept New England after Mark-Anthony Kaye got himself run in the first half, Philly ultimately took advantage, won 1-0, and now everyone can focus on the thing that everyone has been thinking about: Who killed Nicole Brown Simpson? What did Bruce Arena say to get himself canned?
Friday
West #2 Seattle Sounders vs. West #7 FC Dallas (MLS Season Pass, 9:00)
That was fun, wasn't it?
If that was the last home of 2023, FCD provided the fans with some entertainment that wasn't a drone show. Nothing against drone shows, of course, but it felt like the front office went to that well a couple of times too many and the team went to the "play dire soccer and not get the home win" well several times too many.
But they did get the win and they scored THREE goals in the process, which brings to mind a few questions:
Where in the damn hell was this sort of attack in the last several weeks when the team was apparently committed to eking out 1-1 draws at home?
Is Jesús Ferreira OK or are we about to see some "playing for Alan and Jesús" social media posts from the team?
Can we get Vanni Sartini to make a few vaguely threatening comments towards, well, half of the Sounders team, but especially the Roldán brothers, Yeimar, and Nouhou?
If FCD managed to get out of Seattle with any sort of win on Friday night, for how many years will we hear from Seattle fans about the Jesús Ferreira penalty on Raúl Ruidíaz that wasn't?
#2 is obviously the most pressing concern. I don't want to state the obvious here, but going into the biggest game of the season without two of your three best attacking players would be suboptimal.
In fact, having a front three of Jáder Obrian, Bernie Kamungo, and Paul Arriola normally would be a harbinger of doom. OK, maybe not DOOOOOM, but certainly a harbinger of a ride on the strugglebus.
On the upside, they're deploying their secret weapon: mustaches.
Well, it's got to be better than playing five in the back, like they did in 2016. Mustache up, boys. Eat shit, Sounders.
Saturday
West #4 Houston Dynamo vs. West #5 Real Salt Lake (MLS Season Pass, 5:00)
The great news about Little Brother Orange's shootout loss in Salt Lake Sandy is that I'm off the hook from having to say nice things about them this week. Thank you very much, Amine Bassi!
And since it was a shootout win for RSL after a home draw, I'm not obligated to say nice things about them either. Actually, I'm never obligated to say anything nice about anyone. I will refer you to the first paragraph of this and every column, specifically the "I'm also a hater" part.
So, no Salt Lake, I'm not giving you any damn credit for bouncing back from a Game 1 loss in Houston with a Game 2 home draw, a home draw where you posted a downright FCD-esque single goal on 14 shots, three of which were on target, which was good for an xG of 0.8.
I'm an FCD fan and had to put up with near-unwatchable 1-1 home draws all damn season and I sit down to watch you clowns during the playoffs and I see you do the same damn thing. Screw you guys.
But I'm compelled to root for your backfiring clown-car of a team, led by a carnie who I'm not sure didn't take too many headers as a player. It's not because I have any esteem for you. No. It's because I want to see sad expressions on the faces of people wearing orange t-shirts on Saturday afternoon, and no, not in Austin or Knoxville.
Jefe the Hater's rooting pick: Salt Lake, preferably in a shootout, so that the usual suspects can blow a gasket by having a team advance in the playoffs by drawing two games at the expense of a team that actually won.
Sunday
East #3 Columbus Crew vs. East #6 Atlanta United (MLS Season Pass, 6:00)
Thank God for the Western Conference. It's the only one in these playoffs that's had
An upset,
Coaches obliquely threatening referees, and
Multiple Game 3's
Meanwhile, in the Eastern Conference, it's been all chalk, baby, and all sweeps. That is, with the exception of this game.
So thanks to Atlanta United for at least showing a bit more fight than New England, Nashville, and the Red Bulls. Your contribution to my entertainment is greatly appreciated.
But this game features an actual-factual Coach of the Year finalist. You guessed it, Gonzalo Pineda.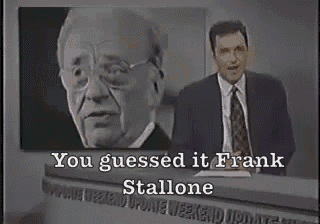 No, just kidding.
It's Wilfried Nancy, whom the Crew scooped up after CF Montréal let walk him last year. CF Montréal has just fired Nancy's inexplicable replacement, Hernán Lozada, after missing the playoffs, so yeah, things are going great in La Belle Provence.
Since it's the Eastern Conference, I really don't have any real sports hate for either of these teams, so I'm gonna go with an arbitrary metric.
Jefe the Hater's rooting pick: Columbus. Lower.com Field has grass and Columbus was all-in on Major League Soccer 30 years ago. Meanwhile, Mercedes Benz Stadium has plastic and nobody in the ATL thought about professional soccer until Arthur Blank decided he wanted to fill dates at the Falcons' new stadium.