I'm Dustin "El Jefe" Christmann and I am an FC Dallas fanatic from Day One of the Dallas Burn. I'm also a hater. I used to yell mean, hateful things from the stands at the Cotton Bowl and Toyota Stadium, but now, I'm sharing my id with you to help guide you, my fellow FCD fans, in your enjoyment of Major League Soccer on TV.
During the offseason
Look, if you want in-depth analysis of Philly's choke LAFC's glorious triumph, go elsewhere. This ain't that kind of column. This is the column where we laugh at Seattle's utter impotence in the World Club Cup. This is the column where we laugh at El Tri's failure to reach el cuarto partido, let alone el quinto partido. It's the Hatewatching Guide.
But there were noteworthy changes of interest to you, the hateful viewer. First, all the games are on MLS Season Pass. Tim Cook cut a big-ass check and now you don't have to hunt for the games. Second, this column is now shorter and more focused. Do you care about the CLTFC-New England game this weekend? Of course not. You don't love either of them, you don't hate either of them, and I can't give you good reason to do so. So we're just giving you the most interesting five games of the week.
EL SUPERCLÁSICO DEL SIGLO (de la semana)
LA Galaxy vs. LAFC (postponed)
This is where I was gonna riff on the Galaxy and LAFC. I was making jokes about how the Galaxy was a club in decline, trying their darnedest to stay relevant while their little brothers downtown have become the new hotness. I'd make jokes about how they were about two steps away from doing Suntory whisky ads in Japan just to get a paycheck.
And LAFC? They're the champs, so I'd have to resort to cheap jokes about Gareth Bale, cheap jokes about their Chivas USA heritage, cheap jokes about their Chivas USA fans, and cheap jokes about their celebrity owners. I'd make jokes about the game's being at the Rose Bowl, jokes the fact that Galaxy fans hate their team management, and jokes about how MLS was so thirsty for a big gate, like we're back in 1996 again.
But Southern California is being hit by torrential rains, there's gonna be mudslides, Angelenos don't know how to handle any more moisture on the street than the occasional puddle, and the parking at the Rose Bowl is a golf course that would get torn up, so the game's been postponed until July 4. What a shame.
And since no other game has the sort of heat that this game would've had, I'm just gonna complain about this postponed game.
Little Brother Game of the Week
Austin FC vs. St. Louis City SC (Saturday at 7:30)
St. Louis has given the world a number of great things. It's the Gateway to the West! It was the site of the 1904 World's Fair! It's the home of Jon Hamm, Nelly, and Scott Bakula! It's given the world provel, a cheese-like substance that one finds on St. Louis-style pizza!
And most importantly, it was the spiritual home of American soccer in the 20th Century, giving US soccer Harry Keough, Taylor Twellman, and Becky Sauerbrunn, among others.
Strange that it took them 26 years to finally have a team in America's most successful soccer league, but better late than never, I guess. In the meantime, we instead got teams in fourth-rate cities like Salt Lake, Columbus, and Austin, not to mention a homeless sportswashing operation in New York.
And speaking of one of those fourth-rate cities, our favorite laminator enthusiasts down I-35 are the first-ever opponent for St. Louis City. Since MLS is still in the "new baby" phase with our verde-clad pals, this is currently appearing on the game preview at Major League Soccer Soccer dot com:

Oh wow, their second game against an expansion team? Do they a free entree at Denny's when they get 10 expansion teams to punch their punchcard?
Anyway, this game was an easy pick over the other alternative, Cincy-Houston. Nothing against Brandon Vazquez, but we get to see an expansion team's first game, and we get the thrill of seeing Austin FC raising their first ever banner, commemorating their glorious Copa Tejas win. (You're not 100% certain whether that last part is a joke, are you?)
Jefe the Hater's rooting pick: I'm sure that St. Louis will give us plenty of reasons to root against them in the years to come, but imagine the comedy when they win on Saturday.
Token Eastern Conference Game of the Week
DC United vs. Toronto FC (Saturday at 6:30)
Look, there are plenty of hatable teams and games in the Eastern Conference, but do you give a shit about most of them? Of course not. But since I believe in exposing you to the entirety of Major League Soccer, I'm gonna give you at least one Eastern Conference game a week for you to give a shit about.
This week's game is gonna hurt, since it involves Toronto FC and specifically Matt Hedges. Lots of electrons have been sent to their demise on the internet debating whether or not FCD should've let him walk. We're not here for that. We're just here to say that it's gonna hurt watching Cap'n Matt running around wearing another team's shirt and wearing another number.
And now, Toronto's got Brandon Servania. We all thought that he was gonna be a part of the FC Dallas midfield for years to come, but it just wasn't to be. Tough to see him go, but hopefully Jesús Jiménez will come good.
Our former heroes will be going up against DC United. If you wonder how things are going for the undisputed giants of MLS 1.0, they're coming off a 2022 Wooden Spoon season, the most prominent player on the roster is their coach, their coach is treating this gig like a short-term rehab assignment until he gets another Premier League gig for no apparent reason, and their home stadium is becoming more famous for cracking down on epic beer snakes during XFL games than it is for being the home of DC United.
What a dumpster fire. So of course, given the way this dumb league goes, DC United will get a glorious win over Toronto in this game.
Jefe the Hater's rooting pick: Toronto. I don't usually root for the overdogs, but hey, when overdogs want to give a beloved player a fat sack of cash, they become a lot more sympathetic. Plus, the worse DC United are when a Premier League club hires Wayne Rooney, the funnier it'll be.
Bumfight of the Week
Seattle Sounders FC vs. Colorado Rapids (Sunday at 7:00)
Friends, countrymen, fellow haters, I cannot tell you how much I'm enjoying putting the Sounders in the bumfight slot. And I'm gonna take advantage of it because I don't know if I'll be able to do it all that often this season. Sure, they finished outside the playoffs last season and sure, they looked utterly impotent against Al-Ahly in the World Club Cup, and sure, they just lost the architect of their great rosters, Dallas Burn legend Garth Lagerwey, to Atlanta in the offseason.
But they're the Sounders. They've spent most of their existence being Harry Houdini, spending the most of the first half of seasons in the depths of the Western Conference, only to make a midseason signing or a tactical change, rise back into playoff position, and make a deep playoff run. They did it under Sigi Schmid and they did under Brian Schmetzer. I should have some respect for it, but frankly, it's revolting.
I want them dead. OK, not dead, but even worse: I want them to become DC United or the Chicago Fire. I want their fans haunted by the memories of increasingly distant bygone glories as their heroes stumble incompetently for season after season. I want them to be making regular appearances in the Bumfight slot. Is that too much to ask?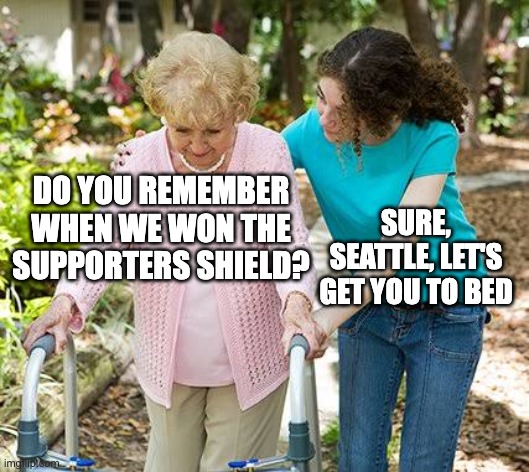 So do your part, Rapids. Yes, I make a lot of jokes about how your role in life has been to be summer programming on Altitude. Yes, I make a lot of jokes about Stan Kroenke will probably not utter your name when talking about his sports properties or his soccer properties or even his soccer properties who play near the intersection of 56th Avenue and Quebec St. in Commerce City. But I will appreciate your contributions in helping the Sounders moving next door to the Fire at We Used To Be Great Estates.
Jefe the Hater's rooting pick: Rapids, and I'm currently chuckling at the thought of Stan Kroenke attempting to guess the name of his American professional soccer team in fewer than three guesses.
Good Guys Game of the Week
FC Dallas vs. Minnesota United (Saturday at 7:30)
"Weren't you guys just here four months ago?" The last team to visit Toyota Stadium in 2022 is the first team to visit in 2023. This time, however, two things will be different:
Alan Velasco will likely not be ending the game by Panenka-ing a goalkeeper who for whatever reason was held in higher regard than Maarten Paes.
Emanuel Reynoso will not be there.
The latter is far more interesting to me. It's not often that a guy will sign a contract extension in September and be boycotting the team in February, but here we are. I mean, I get it. I've been on vacation and I've had the thought, "Man, I don't want to go back to work," but Reynoso made that dream a reality. What a hero. It's good for FCD, though.
But that's not what I want to talk about.
I want to talk about the Sophie's Choice that Apple is giving us. For years, FCD has the best local TV announcing team in the league with Mark Followill and Steve Davis. But then, Apple came in with a big pile of money, got the rights to all the game, and hired Followill, but not Davis, and paired him with Danielle Slaton, who has been the only good thing about San Jose Earthquakes broadcasts. Meanwhile, Davis will be working FCD's radio broadcasts with the very competent Owen Newkirk.
And thank to Apple's giving us the home team radio broadcast as an alternative audio channel on their streams, we now have to make the choice on Saturday of hearing Followill OR Davis, but not Followill AND Davis. This is Apple's worst mistake since they put a U2 album on all our phones.
But at least you could delete U2 off your phone. I don't see any workaround for this. So while I'm normally in this business of telling you "watch this and root for that," I must tell you that for this game, it's up to you. There are no wrong choices here, except for rooting for the Loons, in which case you can kiss my butt.